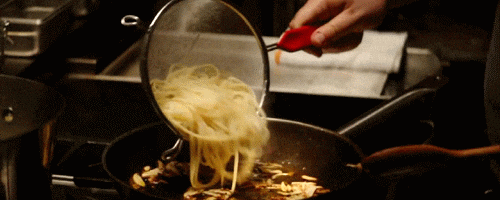 Whether you are a beginner in the kitchen or a restaurant chef, you will somehow have a situation that is out of your control caused by the bad ingredients, or wrong recipes, or choosing inappropriate kitchenware...
A well-equipped kitchen makes cooking much more easier, and knowing the best way to use and care for your cooking tools and other supplies makes cooking safer...
For beginners, things are always in a hurry at the beginning, messy table, confusing recipe steps...

Here we would like to share 8 cooking tips from Korean mommies to help you become an expert in cooking!
Sometimes moms really do know best
1. Making Crispy Fries
How to make perfect French fries

-Peel the potatoes and cut to 1 cm thickness

-Give them a good rinse (This helps remove starch and make them more crispy.)

-Put them in a pot with water and add some salt, and boil for about 20-30mins.

-After taking out the potatoes to cool, thoroughly pat them dry with paper towel. Make sure you get as much water off as you can. And then put them in the freezer for 2-3 hours.

-After the potatoes are frozen, prepare a pan with oil and prepare for frying!!!

-Serve with ketchup and enjoy!
2. Tips For Keep Your Bread Fresh
Keep your bread fresh with the celery trick!
To stop bread going stale and moldy by putting a stick of celery into the bread bag. The bread absorbs the moisture from the celery which stops it drying out and going moldy faster~
3. Keep Fresh Fruits And Vegetables Longer
-Red vegetables: Add a few drops of lemon juice

The ingredients contained in lemon can prevent food from browning due to oxidation, prevent vitamin C from loss, and help maintain the freshness of the veggies and fruits! You can use this trick on apples, onions, strawberries, etc..
4.How to save a burnt pot or pan
Save your burnt pans, without too much elbow grease, harsh cleaning chemicals, or, in the worst case, buying a new saucepan.
-2 tablespoons of vinegar (about 20ml)
-Wooden spoon
-Use a wooden spoon to gently move the place where the burnt part is attached to the pot. Please be gentle otherwise you could damage the non-stick coating.

-Pour vinegar into a pot and boil

-Bring the mixture to the boil and let it boil for approx.

-Then clean the pan with normal water and washing-up detergent.

-They should come off easily

Does the burnt pot give you a headache?
It's time to invest in good non-stick cookware!


Modori

Sodam Cookware Set
■ Create delicious meals and desserts with the convenient versatile 3-Piece cookware set
*Safe and excellent non-stick effect
*Easy to care
*Cook with less oil
*Durable and long-lasting
■ Multi-functional Handle
Specially designed removable handle, it means you can switch from one pan to another in a single click!
Up to 50% Space-saving. Perfectly nesting cookware set for optimal space saving!
■5 ceramic nonstick layers
Modori Sodam Cookware Set using natural ceramic coating that is free of PFOA -- Natural ceramic Xtrema™ coating technology
Xtrema™ ceramic coating
Advantages & Benefits
Safe and excellent non-stick effect

Easy to care

Cook with less oil
Modori cookware set allows oil to disperse evenly!

▼Excellent nonstick coating, easy to fry an egg with lesser oil!
In addition to being easy to clean, the ceramic non-stick coating has high-thermal-conductivity and greatly shortens the cooking time!
▼Look at the difference!
■ Enjoy outfitting your kitchen with our multi-function 3pcs cookware set
While there are lots of good cookware sets out there, Modori offers just about every performance plus and ease of use you could ever want.
■ Shop and learn more at @modori.sg